Houston Bound: Culture and Color in a Jim Crow City
2016 Kenneth Jackson Award for Best Book (North American), Urban History Association
 2017 W. Turrentine Jackson Prize, Western History Association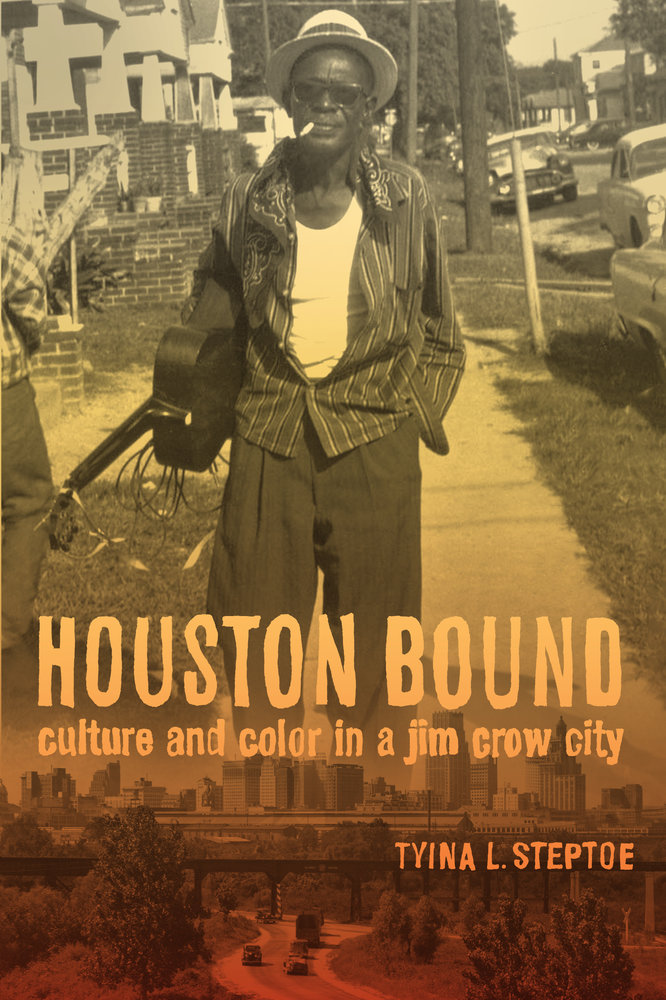 Beginning after World War I, Houston was transformed from a black-and-white frontier town into one of the most ethnically and racially diverse urban areas in the United States. Houston Bound draws on social and cultural history to show how, despite Anglo attempts to fix racial categories through Jim Crow laws, converging migrations—particularly those of ethnic Mexicans and Creoles of color—complicated ideas of blackness and whiteness and introduced different understandings about race. Houston Bound also uses music and sound to examine these racial complexities, tracing the emergence of Houston's blues and jazz scenes as well as the hybrid forms of these genres that arose when migrants forged shared social space and carved out new communities and politics.
"Balancing a stunning variety of variables—ancestry and color, legal and customary segregation, rural and urban origins, religious and musical traditions—Tyina L. Steptoe explores in fine detail the making and unmaking of 'this thing we call race.' Contrasting recurrent ethnic conflict in several spheres with shared musical performances among Creoles and blacks, Mexican Americans and Mexicans, this book tells the story of multicultural production like no other that I know of. Houston Bound opens new historiographical conversations and complicates old ones."
—Kevin Mumford, Professor of History, University of Illinois at Urbana—Champaign
"Houston Bound is an important and pathbreaking example of the new Southern Studies. Steptoe reveals how cultural interactions between Texas blacks, Louisiana Creoles, and Mexican and Tejano migrants to Houston in the twentieth century produced fluid and changing understandings of racial identity even as whites passed Jim Crow laws to try to fix a black-white racial binary."
—Grace Elizabeth Hale, Commonwealth Chair of American Studies and Professor of History, University of Virginia
"Steptoe probes deeply and insightfully into the cultural and racial dynamics of Creoles of color, black Texans, and ethnic Mexicans where these communities transformed conventional understandings of racial space and place in the Jim Crow South, often despite differences in language, religion, racial identity, and especially musical expression—from jazz, blues, and 'la-la' to Tejano soul, orquesta, zydeco, and the cross-racial music of Beyoncé and Chingo Bling. Houston Bound is a historical tour de force that reveals the Bayou City and its intricately entwined cultures as a close cousin of New Orleans."
—Neil Foley, author of Mexicans in the Making of America.
"Tyina Steptoe pushes the historical and theoretical boundaries of Borderlands and Black Studies to produce a magnificent relational history of Blacks, Creoles, whites, and Mexicans in Houston.  The stories she uncovers remind us of the indelible historical and cultural links between these communities. Houston Bound will dramatically expand how we think about the history of race, politics, and popular culture in Houston and, more broadly, the confederate South."
—Gaye Theresa Johnson, Associate Professor of Chicana/o Studies and Black Studies, University of California—Los Angeles.